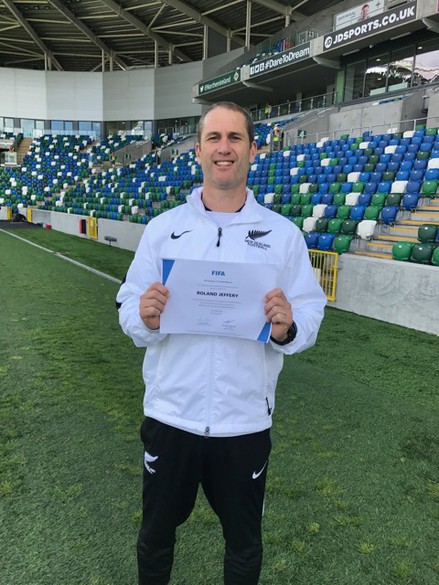 Roland has obtained his FIFA Medical Diploma, this month while on tour with the All Whites in Ireland. After almost 2 years of intensive study Roland finished the final module (1 of 42 modules), on injury prevention in late May.
It was a long journey, with pre readings, online learning and a grueling quiz at the end of each module to assess learning outcomes. Roland had great support from All White doctor Chan and Mark Palmer, physiotherapist and head of Injury Prevention at RB Leipzig (second in the German Bundesliga this year). Chan and Mark whom both travel with the All Whites contributed to study meetings while on tour, which helped share knowledge across a number of different aspects of the diploma.
The FIFA Medical Diploma is football specific and encompasses numerous aspects of football medicine – invaluable knowledge for working with professional footballers and recreational footballers.
"It's been intense studying, working and travelling with the team, but its great to know that I have the diploma, I'll support my colleagues and encourage them to work towards completing all 42 modules."
The All Whites are on route via Ireland to the Confederations Cup in Russia where they will meet Russia, Mexico and Portugal in June.